Product Description
Payment & Shipping Terms
Supply Capacity
Unit Price:
500.0 USD
Production Capacity:
200Pcs
Trade Term:
FOB
Packing:
Carton, Pallets
Payment Terms:
L/C, WU, D/P, T/T, D/A
Delivery Date:
20-25days
MOQ:
1 Piece/Pieces
Means of Transport:
Ocean
The Lifting Magnets have strongest magnetic path and produce by NdFeB Magnetic Material. This product are widely use in loading and unloading iron blocks,iron cylinders and other can attract by magnetic material products. Lifting Magnets are widely used in factories, docks, warehouses and transportation.
There are 6 Models of Lifting Magnets, the lifting capacity from 100Kg to 6000Kg, easy to manager and use.
LM-100, LM-300, LM-600, LM-1000, LM-2000, LM-3000, Also can produce LM-4000, LM-6000 if customer need.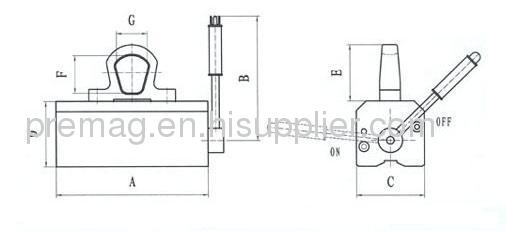 Model

Weight

Dimension (mm)

Kg

A

B

C

D

E

F

G

LM-100

3

86

150

66

67

63

35

43

LM-300

9

180

168

80

80

63

35

43

LM-600

20

250

198

107

103

88

52

60

LM-1000

40

330

262

129

130

88

52

60

LM-2000

85

415

370

170

170

122

64

87

LM-3000

180

470

480

234

190

122

64

87

LM-4000

280

615

600

255

204

154

72

104

LM-6000

420

650

600

266

232

154

72

104
Category: Magnetic Lifter
Related Category: Holding Magnets